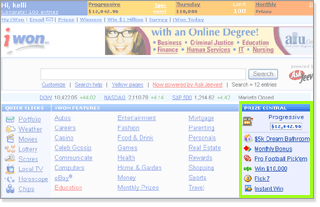 Fun Stuff is now Prize Central!

Our popular Fun Stuff module has moved to the top of the iWon home page - and is now called Prize Central.

Look for it to the right of iWon Features (see image at right). Now it's even easier to participate in all our fun sweepstakes with no scrolling required.

Online Education Center - Read helpful articles about career training, college life, and financial aid, do a college and university search, get course alerts from schools in your area, learn more about online schools and prep yourself for important tests!

Pro Football Pick'em - Get in on all the free pigskin pick'em action and you could be our next $250 weekly winner. Missed a week? No worries, each week is a new chance to win cash!

Entertainment & Music Videos - Watch free videos on iWon in our Entertainment channel. You'll find the latest news covering fashion, games, animation, comedy, science, sports and more. Plus, veg out with the latest music videos from your favorite artists!


1) iWon has its own toolbar that lets you search from anywhere on the web, keep track of your sweepstakes entries from any site, and access all your favorite games, news, and other iWon features with just one click.

2) iWon has its own winner stats section where you can find out how many winners are from your state - or anywhere else in the country.

3) iWon features dozens of NFL stats categories updated daily covering everything from passing and receiving to turnovers and sacks.